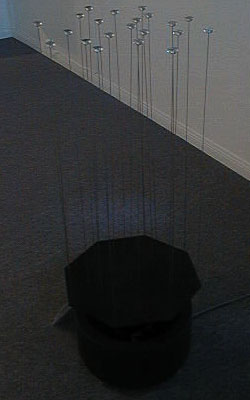 Artist: Tsai
Title/Year: Harmonic Sculpture #10, 1968
Dimensions: 42 1/2 x 17 diameter
Materials: Stainless steel and cement (strobes (2) and sound modulator)
Year: 1968
From: Howard Wise Gallery
Owner: DWB
Location: Santa Ynez
Exhibited at:
Comments: First of strobe/vibrators sold by artist in first show by Howard Wise. After DWB committed, Wise called DWB to ask if he would waive for Whitney Museum. DWB said no - to sell them a different one. He did - and it stayed in their storage area for seven years.

Artist: Tsai
Title/Year: Upward Falling Fountain 1978
Dimensions: 95" high x 48" wide x 33" deep
Materials: Double helix, cybernetic water sculpture, strobe shower head, vibrating motor, microphones
Year: 1978
From: Artist
Owner: DWB
Location: Santa Ynez outdoors
Exhibited at:
Comments: Named by DWB upon artist's invitation

Tsai, born in 1928 in Amory, China, came to the United States in 1950. He studied art without interruption from the time of his childhood and received a B.S. in mechanical engineering at the University of Michigan. After a decade as a practicing engineer, Tsai accepted the John Hay Whitney Fellowship for painting and became a full-time artist. He was a Fellow at the Center for Advanced Visual Studies at M.l.T., and has been represented by major contemporary galleries including Howard Wise, Denise Rene, and Wildenstein. His works are in the permanent collections of the Tate Gallery, London; the Whitney Museum, New York; the Centre Georges Pompidou, Paris; Kaiser Wilhelm Museum, Krefield Kunsthalle Nuremberg, Nuremberg; Museo de Bellas Artes, Caracus; Museum de Arte Contemporaneo de Caracas; Hayden Gallery, MIT, and the Israel Museum, Jerusalem.