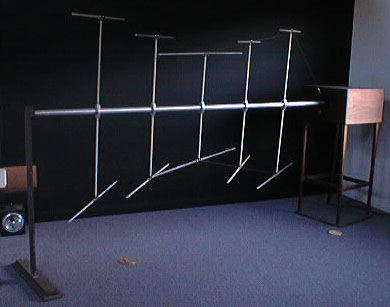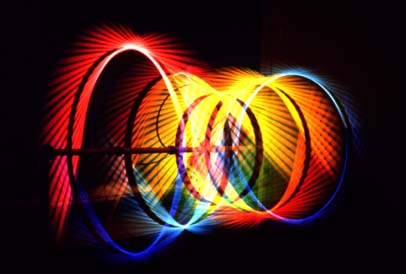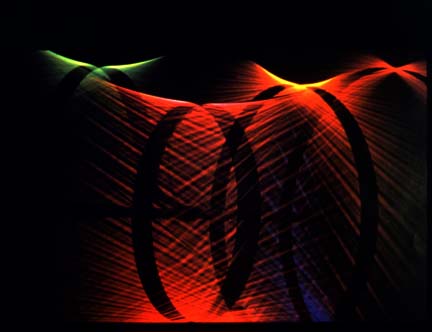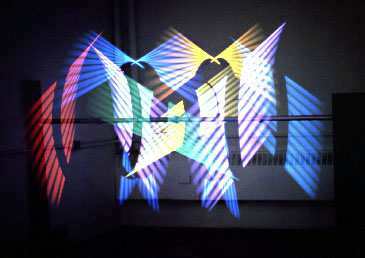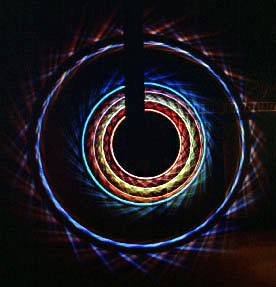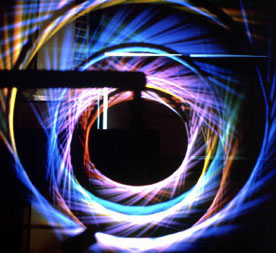 Artist: Sina, Alejandro & Moira
Title/Year: Spinning Shaft 1978
Dimensions: 67 x 128 x 37
Materials: Neon tubes, electric motor
Year: 1983
From: Artist
Owner: DWB
Location: Santa Ynez
Exhibited at: Wadsworth Atheneum 1984; Aldrich 1988; PULSE 2 at S.B. (UCen Gallery) 1990
Comments:

ALEJANDRO & MOIRA SINA create kinetic lightworks that use electricity, glass and luminous gases. Their work (much of it made for architectural and public spaces) requires viewer participation ranging from pressing a switch to clapping hands to simply touching an artwork to activate the light. Mr. Sina developed a new technique for using neon that eliminates bulky wiring apparatus and power supplies, thereby allowing the neon to be put into motion. A native of Chile, Mr. Sina came to the United States on a Fulbright Scholarship in 1973 and worked for six years at the Massachusetts Institute of Technology's Center for Advanced Visual Studies. He and his wife Moira have worked as a team since 1977. They have received and executed numerous commissions, including a hanging sculpture made of 1,000 red neon tubes for the Massachusetts Bay Transportation Authority's Alewife Station in North Cambridge, Massachusetts.

Other Pieces in The David Bermant Collection By Alejandro and Moira Sina: