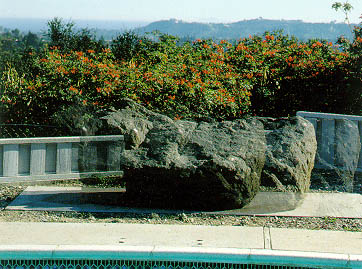 Artist: Okamoto, Rikuro
Title/Year: Moving Rock #22 1988
Dimensions: 33 x 81 x 47
Materials: Plastic resin mixed with sand, aluminum, stainless steel and motor
Year: 1988
From: Artist
Owner: APS
Location: 1104 outdoor
Exhibited at: PULSE 2 at S.B. 1990 (Peake Gallery)
Comments: Pad needed 120 long x 42 wide



Born in Tokyo in 1943, Rikuro Okamoto has taken part in exhibitions at the Tokyo Metropolitan Museum, the Museum of Modern Art and other museums and galleries. At the time of this installation, he is represented by the O.K. Harris Gallery, New York. His work is included in the permanent collection of the Museum of Modern Art, New York.